Transcendence as Enhancement and Opposite Pole of the Adventurous
Medieval German Literature, LMU Munich
Principal Investigator: Prof. Dr. Michael Waltenberger
Research Staff: Dr. Philip Reich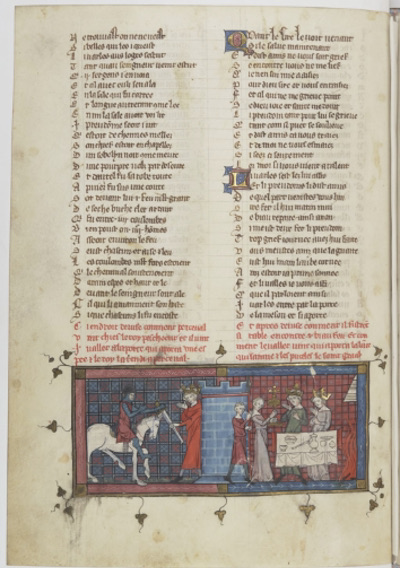 Chrétien de Troyes, Gaucher de Dourdan, Mennessier et Gerbert de Montreuil,
Roman de Perceval le Gallois et continuations. Paris, BnF Français 12577, fol. 18v.
The project aims to reassess references to transcendence within medieval chivalrous âventiure. While it is commonly assumed that adventure as a narrative form is oriented towards immanence and that it anticipates secular modernity in a fairly straightforward way, we argue that these references are crucial to the literary history of adventure. We investigate three groups of texts along the following questions: How does the typically adventurous impulse to transgress and exceed generate certain figurations of transcendence? How do these figurations in their turn perpetuate adventurous storytelling? The following groups of texts are pivotal to our purpose:
(1.) Chrétien's and Wolfram's romances of the grail, the Lancelot en prose and its German translation as well as – in their rough outlines – the most important medieval adaptations and cyclic continuations. In these texts, the paradoxes related to the re-entry of transcendence into immanence manifest themselves in the fact that the grail evades access as well as comprehension. Furthermore, we analyze (2.) Wirnt's von Grafenberg Wigalois and Heinrich's von dem Türlin Diu Crône as contrasting examples of 13th-century German Arthurian romances that construct transcendence by means of motifs taken from Otherworld scenarios. Thirdly, we focus on different versions of the Herzog Ernst epic and Konrad Fleck's Florisroman, where the entering and crossing of the unfamiliar and exotic space of the Orient entails the deferral of the transcendental order's horizon. Moreover, while analyzing the medieval texts, our conceptual reflections will enable us to transfer our research questions concerning characteristic structures of transcendence to modern and contemporary instances of adventure, in particular to relevant fantasies in science fiction movies.
Focus Areas